Lots of new yarns, including more Madeline Tosh and Anzula, coming into the store – come on in and check them out!
We discussed gift knitting and Nancy mentions the Floppy Hat made out of Plymouth Alpaca Grande. Curious Handmade has a really nice free Holiday Gift Knitting Planner. I think this is a cool idea and I think the Yarn Harlot plans out her knitting time similarly on a spreadsheet. The Knitmore Girls are hosting a Grinch-along where they are encouraging knitters to just enjoy the holidays and knit without pressure. Yarn Floozies has a really fun Knitting Time Calculator, that will help calculate the cost of a hand knit gift. Frankie's Knitted Stuff is releasing an Advent Garland with 24 different decorations on it. It starts December 1st and ends Christmas Eve.We just hope that everyone enjoys their holidays whatever their projects may be!
Surf was too big for Kelie this past week but the desert was fun! We discuss our plans for Thanksgiving and the weekend after.
Come on in to the store for Small Business Saturday to enjoy some refreshments and friendship! Look for the newsletter to learn about the food drive Common Threads is supporting for the local Community Resource Center.
Next week we'll announce the new Knitalong at the store.
Nancy's Projects:
Still working on her I Heart Noro blanket and slowly making progress on the Hitchhiker shawl by Martina Behm using Schoppel-Wolle Gradient.
Kelie's Projects:
Almost done with her New Towne Sweater from Custom Fit by Amy Herzog. The yarn is Anzula Cricket in the Black Cherry colorway.Only a few rows left of the collar before binding off and figuring out how to apply the handspun trim. She hopes to finish it by Monday to be able to wear it to the San Diego North Coast Knitting Guild Holiday Luncheon. She started a new pair of socks using her standard toe-up sock pattern with the charts from a Cookie A. pattern called Marilinda – the sock yarn is from Blue Moon Fiber Arts in the colorway Rhodonite.
We both have our favorite cookie recipes to share!
Kelie's Peanut Butter Blossoms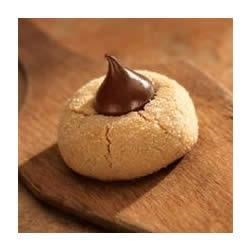 Ingredients:
1 egg
1 cup Peanut Butter
1 cup sugar
36 Hershey Kisses
Combine egg, peanut butter and sugar. Shape into 3/4″ balls. Bake at 350 degrees for 10 minutes. Immediately press kiss into cookie then let cool completely. You could also skip the Hershey Kisses, add 2 Tbsp of cocoa powder to the mix and get chocolate peanut butter cookies. If you can manage not to eat the whole batch, these cookies freeze really well.
 Nancy's Cranberry Jumbles
Prep: 25 Min Bake 12 Min per batch
1 cup all purpose flour
1/3 cup whole wheat flour
3/4 cup packed brown sugar
3/4 teaspoon baking powder
1/8 teaspoon baking soda
1/8 teaspoon ground cinnamon
1/2 cup shortening
1 egg, slightly beaten
2 tablespoons cranberry juice or orange juice
1/2 cup silvered almonds
Orange Frosting
1. Preheat oven to 350 degrees. In a large mixing bowl stir together the flours, brown sugar, baking powder, baking soda, and cinnamon. Cut in shortening until mixture resembles fine crumbs.
2. Stir egg and juice into flour mixture; stir in cranberries and almonds.
3. Drop dough by rounded teaspoons 2 inches apart onto an un-greased cookie sheet.
4. Bake in preheated oven for 12 to 14 minutes or until bottoms are lightly browned. Transfer cookies to wire racks: cool. Drizzle Orange Frosting over top of each cookie. Makes 32.
Orange Frosting: In a small mixing bowl stir together 1 cup sifted powdered sugar, 1.2 teaspoon finely shredded orange peel, and enough orange juice (1 to 2 tablespoos) to make a frosting of drizzling consistency. To Store: Place in layers separated by waxed paper in an airtight container; over. Store at room temperature for up to 3 days or freeze undrizzled cookies for up to 34 months. Thaw cookies, then drizzle.